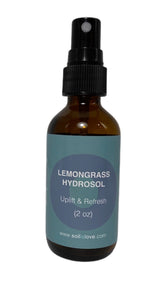 *The bright, uplifting nature and lemony herbaceous aroma of our Lemongrass Hydrosol will bring cheerful vibes to you and your surroundings. It is antibacterial, anti-inflammatory, and astringent. Great for those with all types of skin but especially balancing for oily to combination. When I use this hydrosol, my skin glows like when I fell in love for the first time. : )
I LOVE hydrosols. I love making them, using them, I even love just seeing the bottles scattered around my house. When I catch a glimpse of one of these amber glass containers, it makes me smile, knowing the magic that's inside.
Each of my hydrosols is a single particular medicinal plant distilled with water into a solution that goes into a little glass bottle with a spray top.  They can be used for just about anything – a refreshing and therapeutic face mist, a post-shower all over body spray, or just sprayed into the air, a freshener/vibe enhancer for your car, office, bedroom, or studio. They are full of antioxidants that help protect from environmental pollutants, restore PH balance and tone, and fortify the skin with nutrients and deep hydration. For me, it's the simplest way to get a bit of plant magic and self-love whenever I want (or need!) it.
When it's time for me to make one of these water-based medicines, I pick a plant and, then I spend the whole day with it. I carefully harvest the plant that I have tended from seed, choosing the most vital leaves and flowers to go into the copper still. After that, I add the appropriate amount of water, say thank you MANY times to the plant, and place the still on a flame to turn the infusion first into vapor, and then into a cooled down essence filled liquid. This process is a slow and meditative one, and I always learn something even if I've known the plant for a long time.
Over the years, hydrosols have improved the health and appearance of my skin but, recently, I'm finding myself reaching for them more and more to enhance my surroundings and help bring balance to my emotions. The art of distilling is sacred to me, and I love love, love sharing my results. If you do try my hydrosols, I hope you feel the love and deep connection to the plants that I experience when I move through each step of the distilling process.
Ingredients: Lemongrass (Cymbopogon citratus) Hydrosol.
Directions: Use as often as desired to refresh, tone, and hydrate. When using during skincare routine it's best to use hydrosol after cleansing and before applying the facial serum. This step helps maximize the benefits for both the hydrosol and serum. 
*Store in a cool, dry place away from direct sunlight to maintain quality and preserve potency.